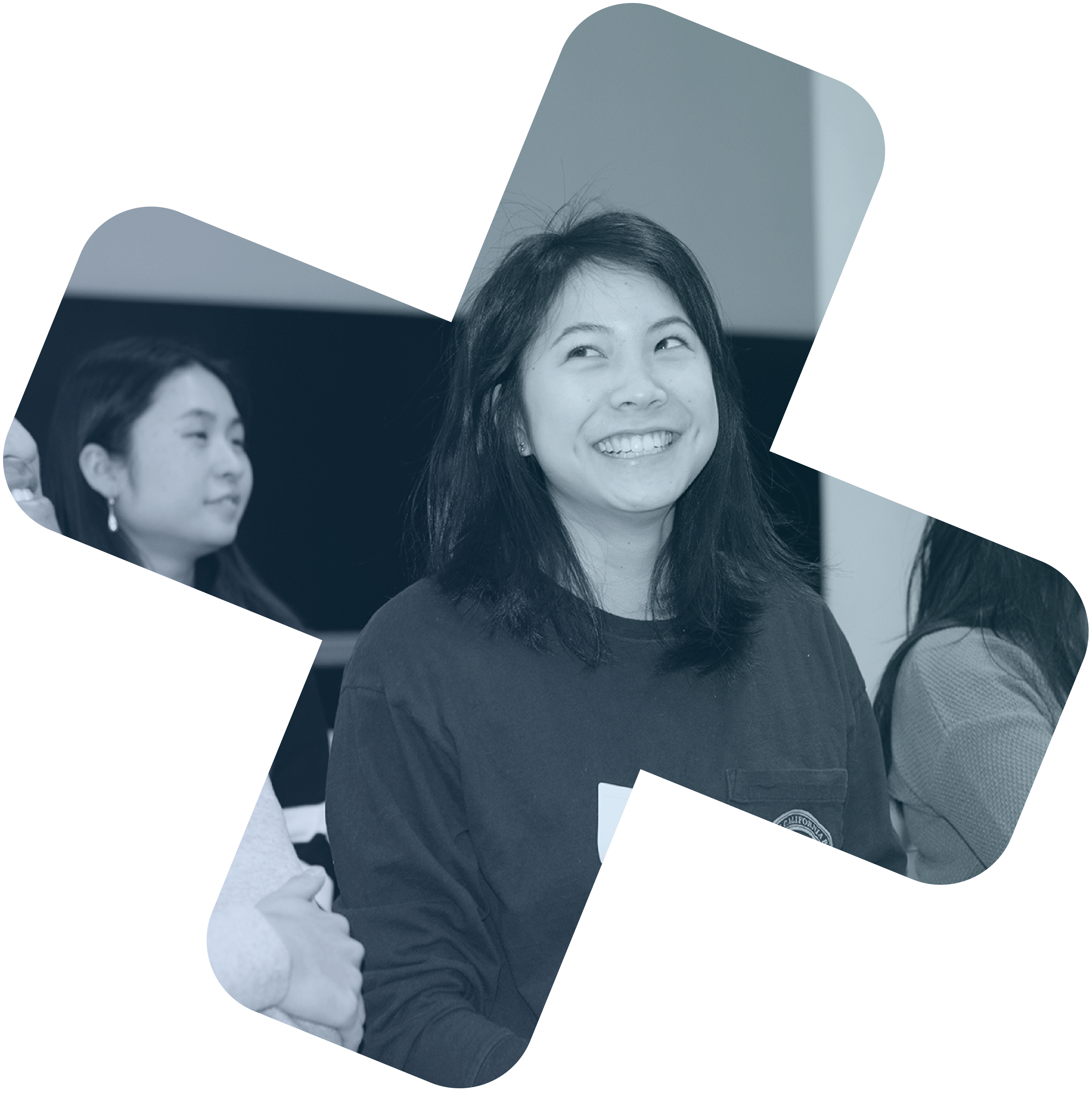 The Impact Summit
A gathering of talented and passionate students and early-career technologists from around the world to connect with one another, hear from expert speakers, learn new skills, and discover exciting opportunities.
The fourth annual Impact Summit was held virtually August 12-14, 2021. Catch up on the events of Day 1 and Day 2 on YouTube.
Subscribe to our newsletter to be notified when applications for the 2022 Impact Summit open!
Subscribe
Schedule
The summit has concluded, but you can watch most of these events on our YouTube channel!
Thursday, August 12
10am PDT / 1pm EDT
Web Accessibility Workshop with Zillow Engineer Michael Porter
We'll cover why accessibility is important and how to build modern web experiences that everyone can use. Get hands-on experience fixing common accessibility bugs and learn about tools to measure and improve accessibility!
11:30am PDT / 2:30pm EDT
Coffee Chat on Glimpse
Pop in and meet other summit participants! We'll supply some questions to get the conversation started.
1pm PDT / 4pm EDT
Data Feminism Book Talk with Professor Lauren F. Klein
Lauren F. Klein is an associate professor of English and Quantitative Theory and Methods at Emory University. Professor Klein will join us to talk about the book she co-wrote with Professor Catherine D'Ignazio, Data Feminism, which explores data science and data ethics through an intersectional feminist lens. Data Feminism is now open access thanks to MIT Libraries, so read up and come with your questions!
2pm PDT / 5pm EDT
Deception and Design with Judith Donath
Judith Donath is a writer, designer and artist whose work is about the co-evolution of technology and society. She is the author of The Social Machine and numerous articles about identity, AI, social media and the future. Formerly the director of the MIT Media Lab's Sociable Media Group, she synthesizes knowledge from urban design, evolutionary biology and cognitive science to design innovative interfaces for online communities and virtual identities. Currently, she is an advisor at Harvard's Berkman Klein Center for Internet & Society and is writing a book about technology, trust and deception.
3pm PDT / 6pm EDT
Q & A with Professor Meredith Whittaker, Co-founder and Faculty Director of the AI Now Institute
Meredith Whittaker is the Minderoo Research Professor at New York University, the founder of Google's Open Research group, and co-founder and Faculty Director of the AI Now Institute. Professor Whittaker will join us to discuss her experience leading labor organizing in big tech and her research on the social implications of artificial intelligence.
4pm PDT / 7pm EDT
Breaking into Civic Tech with Utah CDO Rachel Stone
Rachel Stone is the state of Utah's first-ever Chief Data Officer. We'll hear about her journey from political science student to state government official and how to get started in the world of civic technology.
5pm PDT / 8pm EDT
Civic Tech Fellowships and Careers Panel
Join us for a panel and breakout sessions with representatives from civic tech programs Coding it Forward, Bluebonnet Data, the Day One Project, and Nava. If you're interested in working in civic tech, this session is a great way to learn about these programs' past projects, insights from working in civic tech, and opportunities to get involved in the field!
Friday, August 13
9am PDT / 12pm EDT
Q & A with Jessica Alter, Co-founder of Tech for Campaigns
Jessica Alter, now VP of Business Development at Figma, founded Tech for Campaigns in the wake of the 2016 presidential election as a way for people with digital skills to channel anger and sadness into a type of action that was and is uniquely needed. TFC connects volunteer designers, frontend engineers, and data scientists with progressive and centrist campaigns for state office and Democratic state parties. We'll talk with Alter about her experience starting and leading TFC, learnings from 2020, and how to get involved!
9:45am PDT / 12:45pm EDT
Auditing Algorithms in the Public Interest with Leon Yin
Leon Yin is an investigative data journalist at The Markup, a non-profit newsroom focused on tech accountability. He builds datasets, runs experiments, and audits algorithms. His original reporting on Google has been featured in a NOVA documentary, cited in petitions by civil rights groups, and frequently used as evidence by legislators seeking answers by tech giants. We'll hear from Yin about foundational audits and learn about the general tools and principles that practitioners use through several original case studies.
10:30am PDT / 1:30pm EDT
Interdisciplinary Impact in Tech Policy with Professor Ryan Calo
Ryan Calo is a professor at the University of Washington School of Law and an adjunct professor at the Information School and Allen School of Computer Science and Engineering. Professor Calo will discuss the formation and work of the Tech Policy Lab, an interdisciplinary research organization that has been emulated across the country.
11:30am PDT / 2:30pm EDT
Panel on Current Issues in Tech Policy with Betsy Cooper, Chris Riley, Mallory Knodel, and Nabiha Syed
We'll hear from Betsy Cooper, founding Director of the Aspen Tech Policy Hub; Chris Riley, senior fellow of Internet Governance at the R Street Institute; Mallory Knodel, Chief Technology Officer at the Center for Democracy and Technology; and Nabiha Syed, President of The Markup on topics like cybersecurity, defense of democratic systems, combatting mis- and disinformation online, data privacy, and ethical development and use of AI/ML and automation.
12:30pm PDT / 3:30pm EDT
Workshop on Dealing with Bias and Fairness in Data Science/AI/ML
Tackling issues of bias and fairness when building and deploying machine learning and data science systems has received increased attention from the research community in recent years, yet most of the research has focused on theoretical aspects with a very limited set of application areas and data sets. This tutorial will focus on practical training materials and methodologies to follow when building ML/data science systems that are fair and equitable for people that are affected by them. This tutorial was developed by Professor Rayid Ghani, Pedro Saleiro, and Kit T. Rodolfa.
Saturday, August 14
11am PDT / 2pm EDT
Participant-led "TED Talks"
Some of our amazing summit participants will share their expertise on various topics, from their academic research, to independent passion projects, to just-for-fun hobbies!
Afternoon
IRL Meetups
We'll be meeting up (vaxxed and outdoors) in NYC, Boston, Toronto, Seattle, and SF. Details will be provided on Slack. Come say hi!
About the Summit
The Impact Summit unites young people who are passionate about technology and social good, while connecting them with entrepreneurs, civic activists, and thought leaders who are leveraging technology for social impact.
​In addition to creating a strong community of students and professionals passionate about technology and social good, the summit provides an opportunity for students to find meaningful career opportunities and ignite the ideas that will create a more equitable, sustainable world!
Our mission
Our mission is to bring together the most eager and optimistic minds to authentically form long-lasting relationships, learn together about the challenges we face, and ultimately work with one another to build a more just world.​
We invite all who are compelled by that vision. This can mean computer science students who want to use their skills for social good; young entrepreneurs who hope to start companies that solve big, sticky problems; and passionate activists, policy makers, and philosophers fighting for a more humane technological society.
Anyone who thinks critically about the challenges we're facing in the 21st century and has the guts to do something about them is encouraged to attend!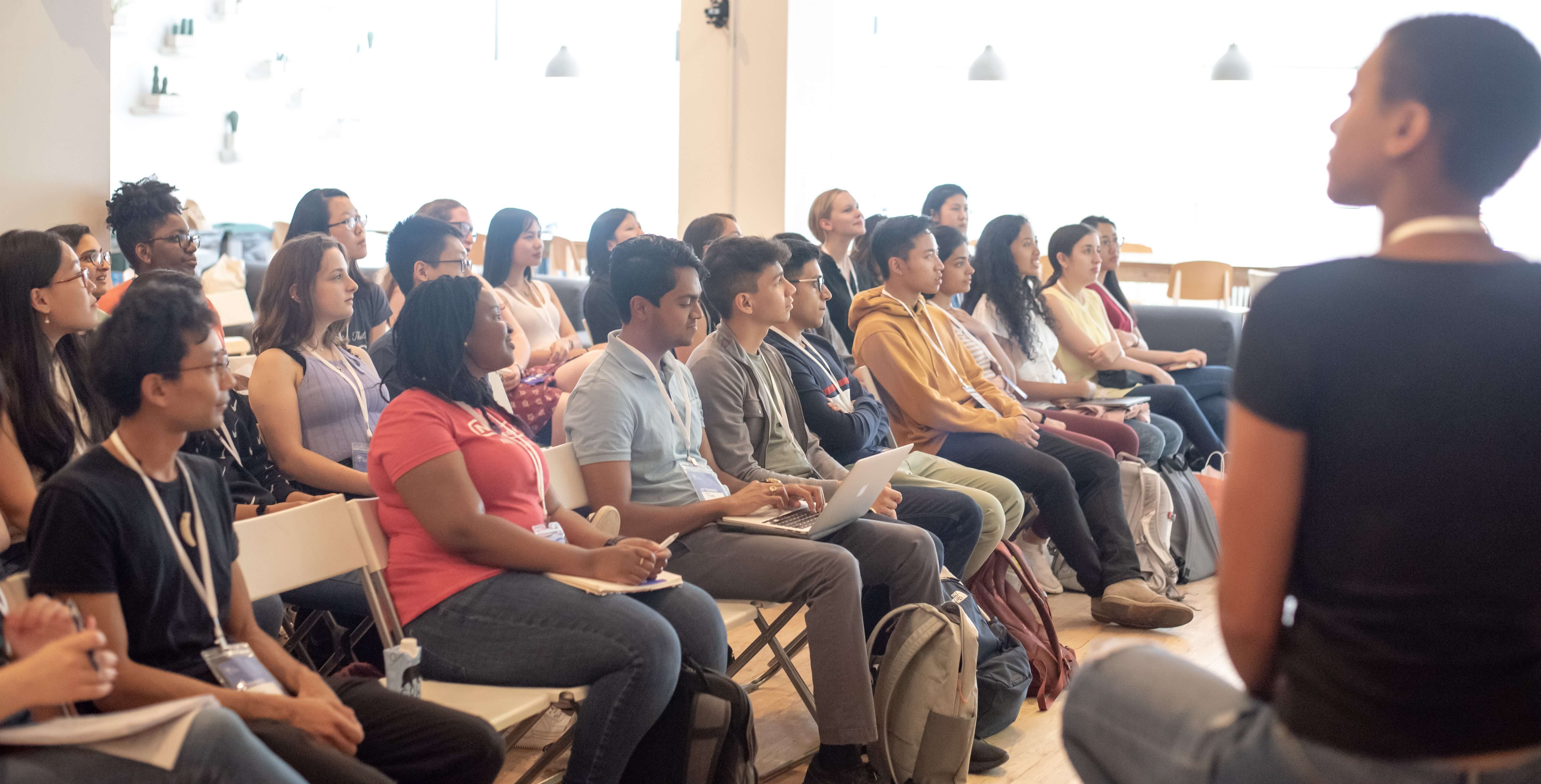 Find Your Dream Job
Our mission is to demystify the path to a career in tech for social good by providing meaningful, accessible, actionable opportunities in the space.
To that end, we host career expo that showcases the top companies that are doing well by doing good, all looking for new team members!
Connect with Each Other
We reserve lots of time for group discussions and more relaxed time to hang with one another!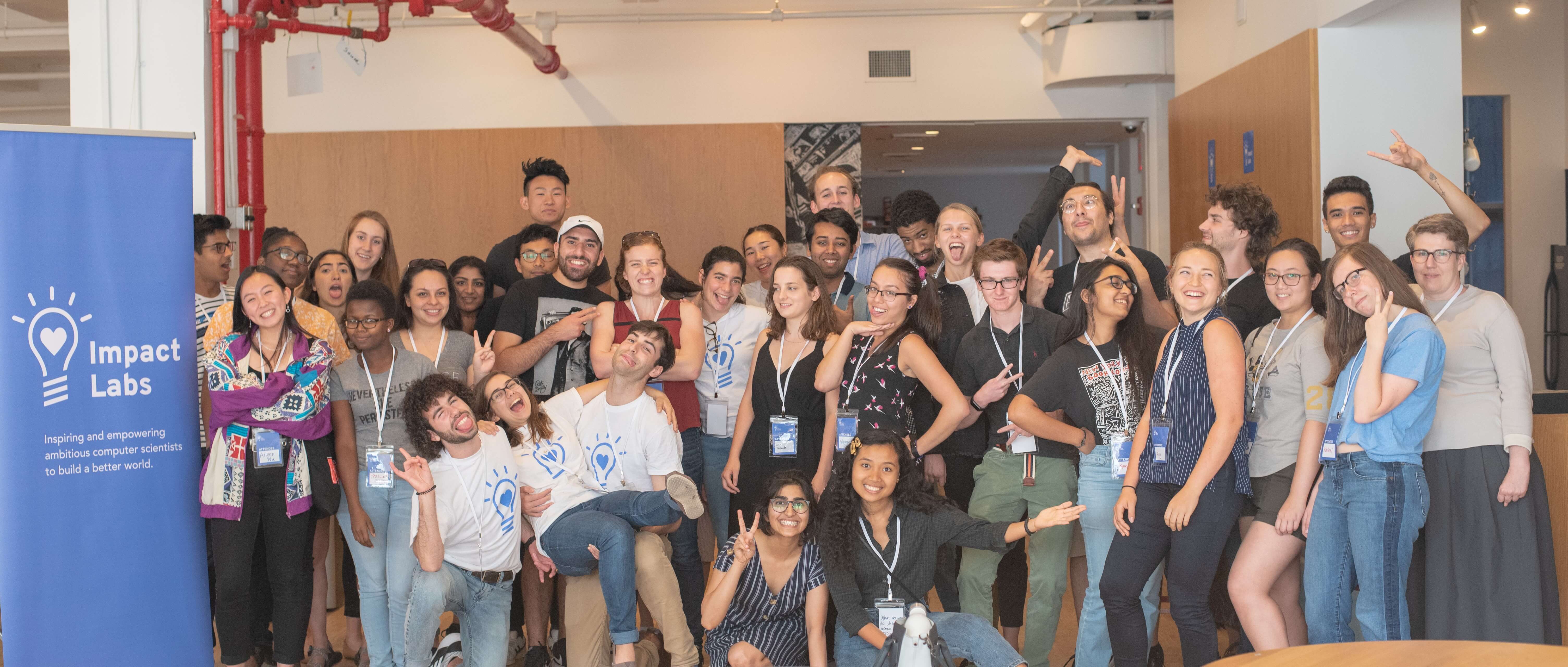 Impact Summit FAQs
Why should I participate?
So many reasons! We're building a community of ambitious, like-minded students who have the chance to connect with social entrepreneurs, mentors, career opportunities, and capital. We want you to leave the conference feeling like you took one giant step closer to your future at the intersection of tech and social good. Maybe that's because you won some prize money for a venture you've already been working on. Or maybe it's because you found your next internship. Or maybe it's because you made a best friend for the summer. Whatever it is, we want to be a part of making that possible!
What can I expect?
Lots of learning, lots of laughter, and lots of kind people; really interesting conversations on life, the universe, and everything; a dope virtual career fair with some awesome high-impact companies; great talks from super cool people (including your peers)!
Who can attend?
Anyone who thinks critically about the challenges we're facing in the 21st century and has the guts to do something about them! You can sign up here.
Who has spoken at previous Impact Summits?
So glad you asked! See our programming packets from 2018, 2019 (Day 1 and Day 2), 2020, and 2021 for a complete list of all past speakers.
When and where will the 2021 Impact Summit be taking place?
The summit will begin on August 12th and events will be held virtually. Details on how to join sessions will be sent out to all registered attendees.
Help! I'm still confused! Where can I ask more questions?
We've got you covered! Reach out to hello@impactlabs.io and we'll respond as quickly as we can. :)